We are extremely pleased to share with you the good news that Ryan Wallace will be joining our staff as the Interim Director of Children, Youth, Missions, and Outreach Ministries! Ryan will be starting on Tuesday, January 16, 2018. We are very excited that Ryan has accepted this position. We look forward to welcoming him to our church staff.
Ryan is about to finish his coursework for a Masters of Divinity at McCormick Theological Seminary (Chicago, IL). He is currently also in the final weeks of a chaplain residency at Northwestern Memorial Hospital (Chicago, IL). Ryan expects to graduate in May of 2018. He is a candidate for ordination under care of the Presbytery of Chicago and First Presbyterian Church of Deerfield (Deerfield, IL).
Ryan and his family currently live in the Rogers Park neighborhood of Chicago. Ryan's wife, Amanda, is from Chattanooga, TN. They met while attending Vanderbilt University. Amanda is the Director of Admissions for 6th through 12th grade at Francis W. Parker School (Chicago, IL). They have one daughter, Mae, who is two years-old. Ryan and Amanda are expecting their second child! Amanda is due in the latter part of May! This truly is a very exciting (and busy!) time of life for the Wallace family.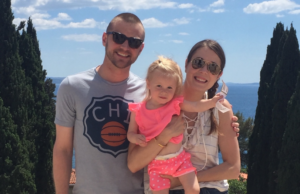 The seeds of Ryan's call to ministry were first planted on a church mission trip at age 12. He returned home at the end of that week and announced to his family that he planned to become a pastor when he grew up. After growing up in Deerfield, IL, Ryan found his way to Vanderbilt University (Nashville, TN), where he graduated with a Bachelor of Arts and Sciences in Spanish, Religious Studies, and Philosophy in 2008. He then went on to serve as Director of Junior High Ministry at First Presbyterian Church of Nashville. While there, he enrolled at McCormick Theological Seminary and completed a Masters of Theological Studies in 2012. Upon graduation, he took a position with Community Renewal Society (Chicago, IL), where he built relationships with clergy and lay leaders, training them to organize within and across their congregations and communities. Ryan went on to work for Interfaith Worker Justice (Chicago, IL) as the Director of Organizing. In this role, Ryan worked to bring together stakeholders to identify priority issues and to establish strategic partnerships with local congregations and denominations.
Earlier this year, Ryan answered a "clear and persistent call to return to congregational ministry." He re-enrolled at McCormick Theological Seminary and continued his formal education. Ryan also initiated in the final stages of the ordination process. Ryan's next step in his journey is to serve on our church staff. It is exciting to see what comes next for Ryan, and it is a blessing to be part of that journey.
Again, please join with me in welcoming Ryan and his family to Park Ridge Presbyterian Church. Please also join with me in thanking the leadership of our church that supported the search which brought Ryan to us.
In Christ,
Rev. Josh Erickson
Senior Pastor