Josh Erickson – Senior Pastor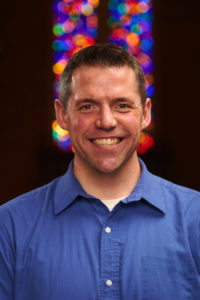 Josh is our senior pastor and head of staff. His primary areas of leadership include preaching on most Sundays, moderating the Session (our leadership board), leading the staff, and providing pastoral care. Josh began serving as our senior pastor in April of 2015. Josh is married to Laura and they have two children: Will (b. February 2013) and Hannah (b. March 2015).
Josh is from the suburbs of Chicago and grew up primarily in Prospect Heights and Elmhurst. Josh is an avid Chicago sports fan. He is thrilled that the Cubs have finally won the World Series in his lifetime! He attended Augustana College (Rock Island, IL) (B.A.) and Princeton Theological Seminary (Princeton, NJ) (M.Div.). Josh and Laura met while both attending Augustana College. They were married in August of 2008.
Josh has served in a variety of ministry contexts. He was a Young Life leader during his college years. Josh served at two church plants during seminary. Josh served as an associate pastor at Second Presbyterian Church, Bloomington, IL from June 2008 through March 2015. Josh was the head coach for the 8th grade basketball team at Bloomington Junior High School during the winter of 2009-2010. He also worked for a pond and lake management company in the Chicagoland area during high school and college.
You can connect with Josh through the following ways:
Josh's Facebook
Josh's Twitter
Josh's Instagram
Josh's E-mail
Josh's Cell Phone – Please contact the church office at (847) 823-4135 or office@parkridgepresby.org for this number.
---
Ryan Wallace – Interim Director of Children, Youth, Missions, and Outreach Ministries (e-mail: ryan@parkridgepresby.org) – More about Ryan coming soon!
Linda Thomas – Director of Music and Bell Choir (e-mail: linda@parkridgepresby.org)
Bert Adams – Organist, Fellow of the American Guild of Organists (FAGO)
Renee Ramsey – Administrative Assistant (e-mail: office@parkridgepresby.org)
Priscilia Membreno – Nursery Worker
Mike Peterson – Custodian
Christopher Masgati – Custodian